FORUMS
NCParrotheads
Posted May 27, 2007
If you happened to have purchased one of the NC Foothills Geocachers coins, you will need to go to www.geocoinclub.com/code.php to get the activation code. Some folks may not have gotten that information when they purchased the coin.
---
The Moop Along
The Man with the Metal
Posted May 27, 2007
What we really missed was actually finding the Parrotheads to trade coins. heheheh
---
Ble68
Geocacher
Posted May 27, 2007
can i see a pic
---
ncfiddler
Geocacher
Posted May 28, 2007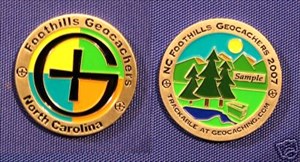 >
They actual metal was silver.
---
Ble68
Geocacher

Posted May 28, 2007
Those are nice
---